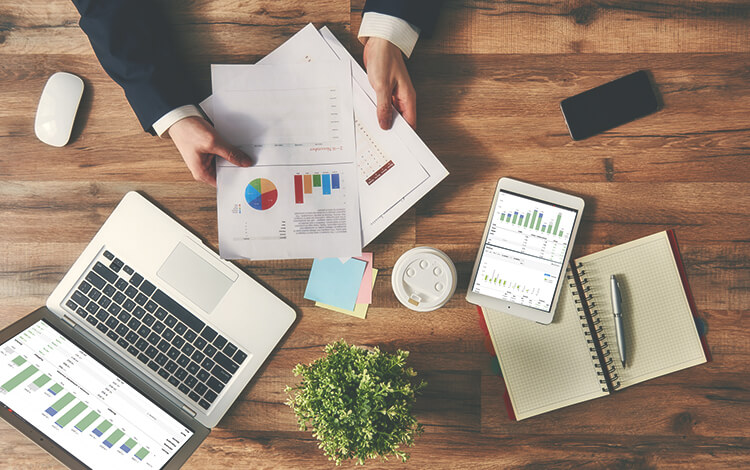 Financial tropism vs maintenance performance
« "Calculating the maintenance budget as a proportion of revenue is a mistake" according to Nicolas … and we agree with him!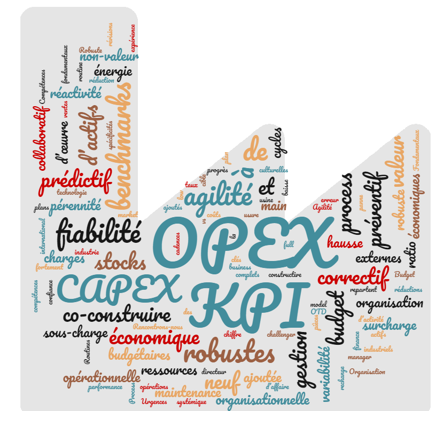 During this budget construction period, I'm thinking back to a question raised by a friend a few years ago. Let's call him Nicolas. At the time, Nicolas was Operation manager at an industrial group. He asked me how to establish the correct maintenance budget for their new plant. They actually used a revenue-based ratio, corrected by the Finance department for certain variables, but he admitted to me that he had no confidence in either this ratio or those variables controlled by Finance.
In fact, for 4 consecutive years of declining revenue (down by as much as -22% over a year), he asked his teams to reduce their maintenance budgets for most of his plants. Reliability then dropped (-17% in 4 years) but as the plants were underloaded, that had little impact on delivery reliability OTD (On Time Delivery). Over the following years, sales really took off again but OTD plummeted, partly for maintenance and reliability reasons, whereas, at the same time, financial resources (OPEX and CAPEX) increased. Despite these financial efforts, reliability stagnated, with a significant, regular impact on scheduling that generated non-value-added positions throughout the value chain.


The maintenance teams forgot certain
fundamentals and their managers didn't
know how to re-establish them

Why couldn't they manage to respond to the increase in demand?

Faced with budget reductions, the maintenance teams forgot certain fundamentals, lost some key resources (resignations, early retirements, etc.), rapidly re-internalized topics and so on. In addition, the lack of CAPEX during those financially difficult years accelerated the ageing of certain critical assets. Whilst order volume increased, rush jobs and urgent situations followed one after the other, with maintenance managers experiencing great difficulty in re-establishing sound organization, the correct frequency for preventive maintenance, the right stock level for spare parts and inspection routes. Everyone was focused on the short term and customer delivery…
The account given by Nicolas is unfortunately quite common.


So, what's the solution?
Economic cycles are increasingly short, budget revisions are regular, sometimes quarterly, and actually, businesses have little point of reference to know when they are nearing the danger zone and risking the equipment's long-term sustainability. So, you need to know how to define the limits that must not be breached, in particular "the minimum" and to anticipate plans concerning a reduction in business so as to avoid late adjustments. This enables you to put together robust budgets that operational staff must be able to defend in their dealings with their financial contacts.
Nicolas knows we've been providing industrial groups with guidance and support on these matters for over 20 years. I shared with him our experience and expertise in this subject. We actually use a systemic method incorporating ratios that are more comprehensive than just the link to revenue, which is an inadequate indicator as regards Nicolas' concerns. To define the financial performance target, for example, we use 2 additional indicators:
1/ The replacement value-based ratio.
Whilst it might seem obvious that the maintenance budget for a €20 million plant built to last 10 years bears no relation to that for a €350 million plant designed to last 30 years, what should be the right level of maintenance expenditure?
We apply specific ratios dependent on the business sector, process type and technology concerned. A plant's replacement value is therefore necessary data for setting the ideal maintenance budget.
But this budget must take into account financial imperatives related to the overall economic climate, hence this 2nd indicator:

2/ The added costs-based ratio.
When work rates fall, there is less wear and tear on equipment and, consequently, maintenance requirements should be reduced. But by what proportion?
We apply ratios linked to added costs (labor, power, external expenses, etc.) to adjust maintenance budgets to take into account the plants' workload. This ensures the correct balance between the business model and the imperatives for maintenance in terms of reliability and expenditure (OPEX and CAPEX).
We use 2 additional indicators
calculated on the basis of replacement
value and added costs. They enable
operational personnel to define and
defend their budget
These 2 indicators, backed by a comprehensive method with both a qualitative (maturity matrix) and quantitative (15 ratios) element, enable us to define maintenance budgets for periods of full market and low market conditions so as to provide the necessary agility whilst guaranteeing the long-term sustainability of the equipment.
Following several months of guidance and support, Nicolas and his teams no longer calculate their maintenance budgets according to revenue. They have reduced their breakdown rates by over 50% and contributed toward returning to a profitable long-term business model. Lastly, plans for adapting to the level of business were prepared with the operating teams and can be triggered at any time so as to have increased agility during future economic downturns.
Have you already worked with specialist industrial asset management consultants? ?
Let's meet!
---
Why I.A.C?
Because our clients recognize that we offer:
1/ Robust, comprehensive benchmarks.
Our 15 ratios encompass a financial approach, an organizational approach and an operational approach. They enable us to help you define an ambitious target that incorporates medium-term impacts and your current market situation (low vs full market).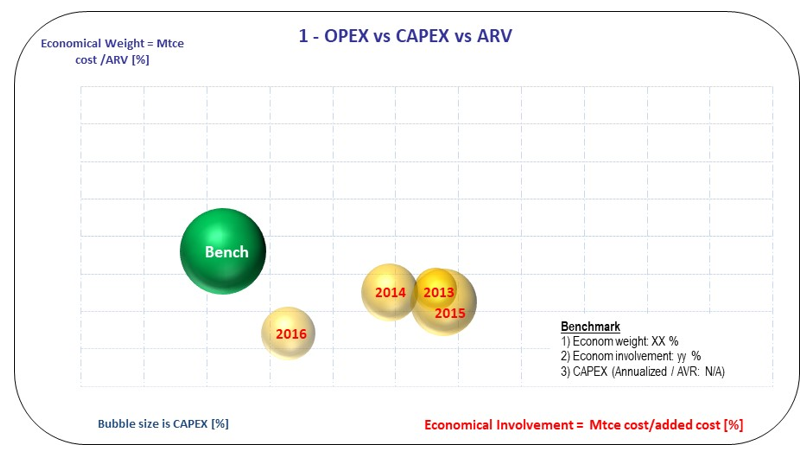 Illustration: graph for dynamic interpretation of the link with
replacement value and added costs
- ARV: Asset Replacement Value -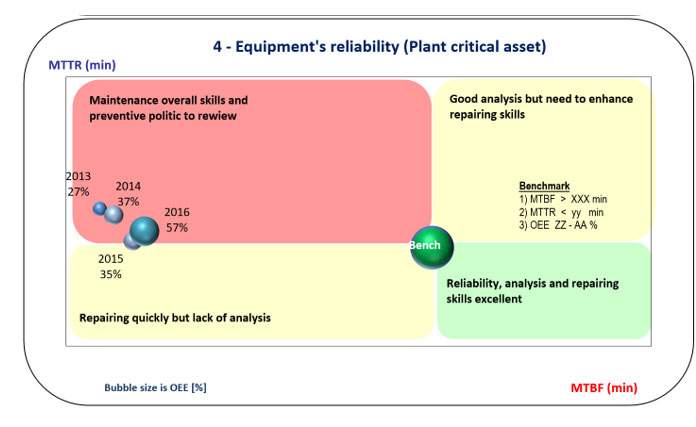 Illustration: graph for analyzing trends in reliability of critical
equipment
NB: non-representative data, scales and illustrations
2/ A systemic approach..
In addition to a quantitative approach based on international benchmarks, we can incorporate within our approaches qualitative assessments based on the maturity of the existing system.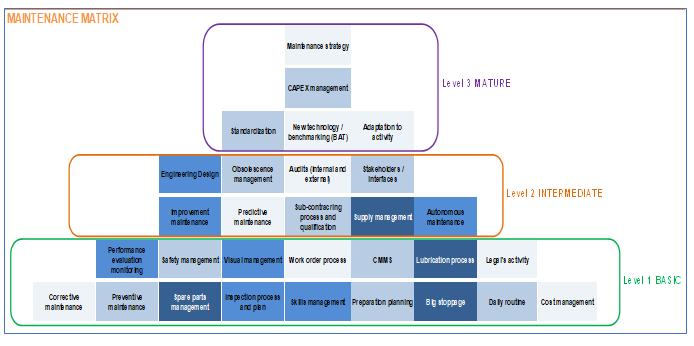 Illustration: maturity matrix for a maintenance department. Maturity
is assessed in a collaborative way with the operating teams

3/ Experienced consultants, able to challenge the entire line of command in a constructive manner.
4/ Concrete, practical support to put together a progress plan adjusted to suit your context and to implement it, taking into account specific cultural particulars both in understanding the issues and stakes as well as during the international operational implementation.
http://industrial-asset-consulting.com/en/expertise/asset-management.html